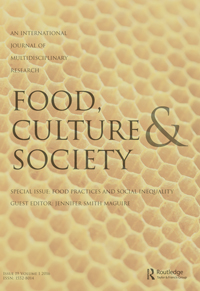 Food, Culture & Society is a quarterly journal published by Routledge on behalf of the Association for the Study of Food and Society. Subscription to the journal is included in the cost of membership to the ASFS.
Join as a new member: here
To renew as a current member (you will need your renewal reminder): here
For questions or problems pertaining to your subscription status, please contact Katherine Magruder at katherine.magruder@nyu.edu.
Editor: Amy Bentley, Associate Professor in the Department of Nutrition, Food Studies and Public Health at New York University. For questions, please contact her at amy.bentley@nyu.edu
Book Review Editor: John Lang, Associate Professor, Sociology Department at Occidental College. For questions, please contact him at lang@oxy.edu
If you would like your book reviewed by FCS, please send a review copy to:
Dr. John Lang
Department of Sociology
Occidental College
1600 Campus Road, M-26
Los Angles, CA 90041
For guidelines and rules of submission, please visit the journal homepage
Food, Culture & Society: An International Journal of Multidisciplinary Research (formerly The Journal for the Study of Food and Society) is an international peer-reviewed publication dedicated to exploring the complex relationships among food, culture, and society from numerous disciplines in the humanities, social sciences, and sciences, as well as in the world of food beyond the academy. It brings to bear the highest standards of research and scholarship on all aspects of food studies and encourages vigorous debate on a wide range of topics, such as:
cross-cultural perspectives on eating behaviors
gender and the food system
recipes, cookbooks, and menu as texts
the food voice
philosophical and religious perspectives on food andthe body
social construction of culinary practices, beliefs, and traditions
politics of the family meal
dietary transitions
psychological, cultural, and social determinants of taste
methodological issues in the food studies
malnutrition, hunger, and food security
commodity chain and foodshed analysis
food in fiction, film, and art
comparative food history
social and cultural dimensions of food technologies
political economy of the global food system
food studies pedagogy
The journal also publishes original review of relevant books, films, videos, exhibitions and a special section on perspectives on teaching.