The ASFS was founded in 1985, with the goals of promoting the interdisciplinary study of food and society. It has continued that mission by holding annual meetings; the first was in 1987 and since 1992, the meetings have been held jointly with the organization: Agriculture, Food & Human Values
Working with Bloomsbury Publishing, the organization produces the quarterly journal, Food Culture & Society.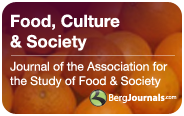 Annually, the organization honors 5 outstanding scholars with awards: ASFS Book Award, Belasco Prize for Scholarly Excellence, ASFS Award for Food Studies Pedagogy, Alex McIntosh Graduate Prize, Bill Whit Undergraduate Prize.
Toward Sustainable Foodscapes and Landscapes
Join us for the Joint 2013 Annual Meetings & Conference of the Agriculture, Food, and Human Values Society (AFHVS), Association for the Study of Food and Society (ASFS), & Society for Anthropology of Food and Nutrition (SAFN).
Wednesday June 19 – Saturday 22, 2013
Michigan State University – East Lansing, Michagan
More Conference Details Here
Officers
President: Jeffrey Miller
Vice-President: Psyche Williams-Forson
Secretary: Beth Forrest
Treasurer: Jennifer Berg
Officers are ASFS members elected to serve 3 year terms. Elections take place at the annual ASFS board meeting.