The ASFS was founded in 1985, with the goals of promoting the interdisciplinary study of food and society. It has continued that mission by holding annual meetings; the first was in 1987 and since 1992, the meetings have been held jointly with the organization: Agriculture, Food & Human Values
Working with Bloomsbury Publishing, the organization produces the quarterly journal, Food Culture & Society.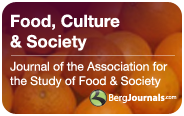 Annually, the organization honors 5 outstanding scholars with awards: ASFS Book Award, Belasco Prize for Scholarly Excellence, ASFS Award for Food Studies Pedagogy, Alex McIntosh Graduate Prize, Bill Whit Undergraduate Prize.
Bridging the Past, Cultivating the Future: Exploring Sustainable Foodscapes, June 24-28, 2015: Join us for the Joint 2015 Annual Meetings & Conference of the Agriculture, Food, and Human Values Society (AFHVS), Association for the Study of Food and Society (ASFS), & Society for Anthropology of Food and Nutrition (SAFN), to be hosted by the Chatham University (Pittsburgh, PA). Click here for the conference homepage.
Officers
President: Jeffrey Miller
Vice-President: Lucy Long
Secretary: Beth Forrest
Treasurer: Jennifer Berg
Welcome to our NEW FCS Book Review Editor, John Lang! Please click here to meet John.
Graduate Student AFHVS-ASFS Listserv:
The ASFS/AFHVS graduate student/early career professional group maintains a listserv. For those new to Food Studies and to the the ASFS, it is a great way to start to network: Please click here to access the listserv.